Food4Macc is a voluntary group that aims to have more food produced locally in the Macclesfield area,
to keep food prices down as transport costs rise.
Latest: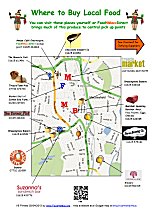 New Project: Upton Priory School 10th May more
First Working party on the Station Approach
Sunday 21st April starting at 9:30am. more
Printed Local Food Map: First draft available here
(All feedback welcome)
Food4Macc takes part in Gardeners' Question time from Jodrell Bank,
to be broadcast on Radio 4, 2pm Sunday April 4th. more

Talk on Freeganism by Ash Ghinn. How to find free food.
If you missed this thought provoking talk read about it here
AGM report: Slides, Minutes, Accounts and Notes to the Accounts are published.
Horse Manure: 5 bags delivered in the Macclesfield area for £10.00, Tel 07749269201
Talks and Demonstrations

Every month with our Gardening Club, we share experience, and swap seeds, plants and produce.
more information


Buy Local Food


We make it easier to buy tasty,
fresh, nutritious and affordable food
from local producers,
with easy pick-up in central Macclesfield or Bollington. more




Community Gardens

Grow your own food as part of a friendly group and
learn from experienced gardeners.

Our volunteers also help build new vegetable gardens and orchards, and advise on their maintenance. more

Garden Sharing

Bypass the allotment waiting list!



We match up gardeners with disused vegetable plots.
more

Some of us just take pleasure in seeing things grow, like having control over what goes into our food, or enjoy taking exercise outside. Our group shares experience and practical support. It's fun!
But there is a longer term aim too. Over the next few years, carbon footprint reduction and Peak Oil will increase the cost of food brought long distances to our supermarkets, so local produce will have a cost advantage.
2013 is a good time to make a start. This website contains links to local food producers, and advice on growing your own fruit and veg, and keeping bees and chickens.
Food4Macc aims to engage members of the community to develop local food supplies using these strategies from the Transition Town movement:-
Over 7 million tons of food is thrown away each year, costing each household £50 a month.
The Love Food Hate Waste website offers lots of simple tips to reduce food waste
---
What's it all about?
We have become dependent on oil for fertilisers and for fuel to transport our food from distant sources.
Today about 40% of the food we eat is imported. That includes an astounding 95% of our fruit and most of the wheat in our bread.
This reliance on food from abroad is perilous. During the 2000 fuel strike, Sainsbury's chief executive wrote to the prime minister to warn that food supplies would run out "in days rather than weeks". Supermarkets rationed bread, sugar and milk.
Meanwhile, cheap high-quality fruit and veg in the supermarkets have discouraged us from growing our own food. Children no-longer learn these skills from their parents, and small farms have become non-viable.
If we look 10 or 20 years ahead, we can anticipate that higher oil costs will reverse these trends and it seems like a good idea to plan accordingly; to encourage local growing of food, and to reduce our dependence on oil-derived fertilisers.
Individuals may feel impotent in the face of this coming storm, but communities working together can be powerful. Some 150 towns around the UK have started "Transition Town" movements, which have demonstrated how much can be achieved.
Typical strategies include making disused land available for allotments, ensuring that food-growing skills are re-learned and practiced, planting of fruit trees in public places; encouraging supermarkets to promote locally grown produce. etc.
We have a short Powerpoint presentation which you view as slideshow or as a printable pdf document.
Our Short History
Our interest in this subject was kindled by a Sunday Times article by John Paul Flintoff in April 2009, and we started to sound-out our friends.

We decided that rather than aiming to be a Transition Town we would first of all see what we could do about food miles.

We held the first of a series of monthly public meeting at the end of September 2009 and began work on our first community garden at Prestbury Beaumont in December 2009.
In December 2010 we hosted a meeting of people interested in setting up a Macclesfield Transition Town movement, and out of that Macc2020 was born.
Read or watch the review of 2010, our first full year. Our second AGM in March 2012. Minutes
Current Status
We have established seven community gardens and are supporting a community orchard project.
We have matched up fourteen owners of disused vegetable gardens with people to cultivate them under our Garden Share scheme.
Local Farmers are being invited to trade with our members using the newly formed Food

4

Macc

Direct.

more
Public talks, visits, and demonstrations are held each month.
We are developing links with the council, trade associations, and other "green" organisations in the area.
We have a formal constitution and insurance in place.
We are registered with local volunteer agencies, have won support and funding from several sources
HMRC accept us as a charitable organisation entitled to reclaim Gift Aid on donations received.
Local Nurseries, Garden Centres and Supermarkets are supporting us.
We use local press and community radio stations to publicise our work.
A directory and map of local food sources is published on our website.
A foraging map shows sources of food in public places such as blackberries and apple trees.
Follow our Blog for latest news updates.