Garden Sharing Scheme
Avoid the allotment queue!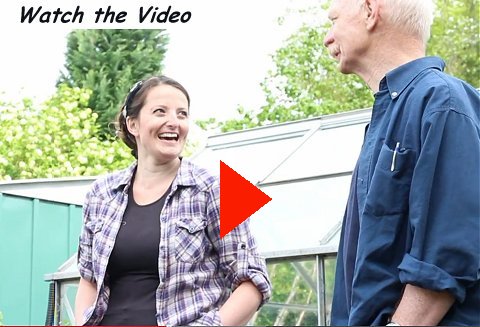 With the increased interest in food growing, Macclesfield has a big waiting list for allotments.
Food4Macc is encouraging home-owners with under-used vegetable gardens to allow others to cultivate them.
We have 14 garden shares running at the moment. Read some of their comments.
People who own gardens are often too busy to cultivate them, and elderly people may no longer have the physical strength required.
On the other hand, young people often have nowhere to grow vegetables. Of course kids love planting seeds and seeing them grow. So vegetable growing becomes good family fun. Garden Share sites are generally smaller and more manageable than an allotment.
Food4Macc acts as confidential introduction agency, finding out what the owner has to offer, noting any concerns, and also talking to aspiring growers about their aims and the amount of time they want to put into a garden.
We try to make sure that there is no mismatch of expectations. Ideally the two parties live close to each other so there are no long distances to travel.
There is no legally binding commitment by either party. Instead, we propose an informal agreement between the owner and the grower.
If the owner decides to sell up and move house, this process usually takes several months to complete, giving the grower time to harvest their crops.
There are other advantages to the Garden Share arrangement; the grower often takes over an established garden that needs less work than a green-field site, and the owner may be an experienced gardener who can offer guidance to a novice gardener – if needed.
Contact our Garden Share Coordinator Bill Pettipiece on
gardenshare@food4macc.org or 07710 878348
If you would like to know more, watch our 3 minute video clip on YouTube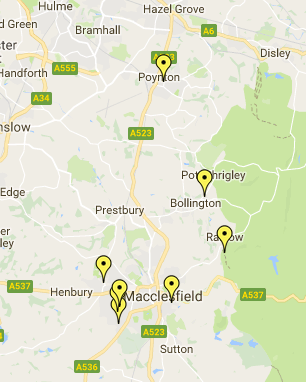 Gardens Available for Growing
South of Chester Road /Colville Road junction - Ref GS037

Good soil; easy access, level ground, onsite storage, greenhouse, south-facing, offroad parking, 'eco' features such as rainwater butts, composting facilities; etc.

What's Not To Like? THIS PLOT HAS THEM ALL! .

More information

Chestergate/ Chester Road Junction - Ref GS036

This site, attached to a community asset, offers a number of opportunities – either as a conventional 'one person' allotment or possibly for use by a group as a 'shared growing space'. Several features make this a good example of a desirable GardenShare - productive soil; town centre location; shed and tools usage; etc. Maybe you want to have it all to yourself – or, if that's a bit daunting, maybe you and a some pals want to have your own 'shared allotment' site? Think outside the box and contact GardenShare with your suggestion or for further details. More information

Ivy Lane Area - Ref GS035

There are 2 large beds - 20'x8' and 16' x11' running side by side with a path between them. They enjoy a sunny aspect. Currently prepared for the winter, and covered in black plastic fabric. Regularly fed and manured for many years. Composting bays, water tap, hose, water butts, power point – and an outside loo!

More information

Gawsworth, Church Lane - Ref GS033

Although tended until last year, the plot has recently been neglected somewhat and so (as at June 2017) it has developed several months' worth of weeds. Approximately 4 x 2 metres sub-divided into wooden raised beds. The soil in these beds is decent quality (as last year's courgettes and runner beans would testify!). Onsite, there is a water butt and a greenhouse.
More information

Macclesfield, Thornton Square - Ref GS029

This site is a find for GardenShare! The well maintained plot is approximately 20+ square metres and in a sunny aspect - good soil with few weeds. Currently the plot is mainly fruit bushes some of which are now past their most productive stage and are ready for replacing. There is a tap, a hose, a shed for storing tools, and a power point. This site is an ideal starting point for a potential grower.

More information

Poynton, Bulkley Road - Ref GS030

One of several back gardens behind a row of terraced houses. The plot is approximately 7 x 5 metres – separated into beds by rough paths. The area is relatively weed free, having been tended and kept covered with fabric.

Access to the back gardens is along a level path to the rear of the terrace. Parking is on-street nearby.

Poynton, Bulkley Road - Ref GS028 - UPDATED!!

SITE NOW CLEARED OF OVERGROWN VEGETATION

One of several back gardens behind a row of terraced houses. This level plot is rectangular and approximately 7 x 11 metres. The site has recently (September 2015) been cleared of overgrown vegetation and the owners have indicated a willingness to help practically and with rotovator hire to assist with further getting the garden back into shape. Access to the back gardens is along a level path to the rear of the terrace. Parking is on-street nearby.

Poynton, Bulkley Road - Ref GS026

One of several back gardens behind a row of terraced houses. This level plot is rectangular and approximately 5 x 10 metres. There are already a few growing beds individually bounded by brick borders. These beds have not been used for some time but are not particularly wildly overgrown. Access to the back gardens is along a level path via a locked gate to the rear of the terrace - you will be given a key. Parking is on-street nearby.

Birtles Road Ref GS025

The growing area is approximately semi-circular shaped with a diameter of about 10 metres. There is an electric power point, water is available via a hosepipe and the owners are offering shed space to store tools. This garden has the potential to quickly be a productive vegetable/fruit plot since whoever takes it on will not need to spend too much time readying it for planting.

Rainow - Lamaload Ref GS011

Part of a large garden currently laid to lawn.
Rural and secluded location. Existing currant bushes and rhubarb.

Bollington. Ref GS019

'This plot is currently two medium sized areas in front of two south facing walls.

There is good access and an outside tap. These areas would be ideal for growing all types of climbing crop and other vegetables.

There is lots of other land to be used for fruit bushes and potentially a mushroom heap. This site is definitely one to come and view and appreciate for its potential.

The owner would like to have input and be able to help out where needed. The owner is short on time but is looking to develop his garden to be as productive as possible. He has had successful years with crops from the garden and would like to be able to share knowledge with a keen grower

Chiltern Ave area, Macclesfield South West Ref GS023

This south-facing sheltered site comprises a single large bed of area approx 6 x 4 metres. Water is available via a water butt/ tap and the owners are offering space to store tools.

This garden was very productive in 2012 but the gardener moved away and it has been fallow for a year.

The owner would be supportive if the grower wished to expand the size of the plot to grow more produce.

Car parking is in the adjacent side-road and access to the plot is via a gate at the side of the house.
Quotes from Food4Macc GardenSharers
Updated September 2015 (The names have been changed as a courtesy, but the content is un-edited)
Yes, Robert is still working the garden and what a very good job he does, providing first class veggies when in season. He seems to really enjoy the free run of the place and I would not like to be without him.
By the way, I don't know what his surname is either.
The bit on your site that suggests that the garden is still available can be removed. I'm happy, Robert's happy and I would like it to stay that way.
>>>>>>>>>>>>>>>>>>>>>>>>>>>>>>>>>>>>>>>>>>>>>>>>>
Hi Bill
I met June this afternoon, and she is a delightful lady who we think will be a very good fit for us - so we agreed that the garden is hers to cultivate, and she will start on Monday week. Thank you so much for connecting us up :-)
Hi Bill
The garden share is working out very well thus far - thanks again for connecting us with June.
>>>>>>>>>>>>>>>>>>>>>>>>>>>>>>>>>>>>>>>>>>>>>>>>>>>>>>>>
Hi Bill
We met Sheila and saw the garden yesterday morning. It is a wonderful site with great potential. We have signed the agreement and dug over the first bed yesterday afternoon so we could make some progress before the rain arrived. It is overgrown but it is only grasses so nothing too daunting and the soil looks very good.
We think the arrangement should work very well for us and Sheila and we are really looking forward to growing our own fruit and veg again. Thank you for your help. We will let you know how things go.
Cheers
Elaine
The garden-share is going well – we have seeded a green manure crop over winter and it will be interesting to see how that does. Looking forward to really getting going with it next spring.
Cheers
Elaine
>>>>>>>>>>>>>>>>>>>>>>>>>>>>>>>>>>>>>>>>>>>>>>>>>>>>>>>>>>>
Hi
Just updating you on our garden share in response to your email.
It is working very well for us. Last year was a very good growing season and we had lots of great produce from both the garden and the greenhouse. A photo of one day's harvest is attached! We also got a lot of edging and some fencing done which has helped to make it easier to manage.
We haven't had as much time to spend up there this season because of other calls on our time but should have more time again next year. We have still had some good produce and more to come – leeks and purple sprouting - over the winter.
We love having the space to grow our own food and will keep going as long as Sheila is happy for us to do so.
Best wishes
Elaine
>>>>>>>>>>>>>>>>>>>>>>>>>>>>>>>>>>>>>>>>>>>>>>>>>>>>>>>>
Hi Bill,
Many thanks for your kind help. Elaine did indeed telephone and she turned out to be the Mum of one of the boys my son was at school with , she and her partner are both lovely people. They viewed the garden space at 11 am, signed at 11.45, went home, came back at 2pm, cut the grass down, dug it over and came back on Sunday and planted it. During rainy spells they cleared their part of the greenhouse-all systems go. There must be 3-5 lbs of gooseberries left which I have said they can have if they pick them . What a refreshing sight after last years ordeal.
I cant thank you enough, it is lovely to see the garden in use again and not wasted.
Many, many thanks
Sheila
>>>>>>>>>>>>>>>>>>>>>>>>>>>>>>>>>>>>>>>>>>>>>>>>>>>>>>>>>>>>>>>>>>>>
Hi,
It is going very well thanks. We are nearing the end of our second year with no regrets or problems. I help with watering while my garden share couple are on holiday. I don't expect any produce but they are very kind and feel they would like to offer something, as I live on my own I do say ' just a small amount' to them. I have had a wide selection of tomatoes, peas, beans, raspberries, courgettes and sweet peas.
Many thanks for your help in setting this up.
Sheila
>>>>>>>>>>>>>>>>>>>>>>>>>>>>>>>>>>>>>>>>>>>>>>>>>>>>>>>>>>>>>>>>>>>>>>>
Hi Bill,
We are highly delighted with our garden share. Jim is wonderful and we are
eternally grateful to Ruth Shercliff for putting us in touch.
Many thanks.
Angela and Pete
>>>>>>>>>>>>>>>>>>>>>>>>>>>>>>>>>>>>>>>>>>>>>>>>>>>>>>>>>
Ray (who now has his own allotment)
My garden share came to an end when April and her two boys moved to another area of Macclesfield. I think we both felt we benefited from the couple of seasons where she assigned part of her garden as "our" vegetable patch and had a small fence erected to keep her two dogs off the patch. She also gave me use of the greenhouse. For my part, I would have liked to see her help herself to more of the produce. I think I probably had the lion's share. She certainly seemed quite comfortable with me letting myself into the garden by the gate, though I had to make sure that the dogs didn't get out or lick me to death!!
>>>>>>>>>>>>>>>>>>>>>>>>>>>>>>>>>>>>>>>>>>>>>>>>>>>>>>>>>>>>>>>>>>>>
Gill and Dave
"...... as my husband and I are thrilled with our plot and quite proud of our progress so far"
---
New gardens are being offered all the time, if you'd like to be kept informed of these please get in touch.
Email for more details or to arrange a viewing:
Contact our Garden Share Coordinator Bill Pettipiece on
gardenshare@food4macc.org or 07710 878348
How to set up a Garden Share Scheme

Sample Draft Agreement for Sharing a Garden