Activities
Community Gardens
We are involved with several Community Gardens in and around Macclesfield.
Grow your own food as part of a friendly group and share experience with other gardeners.
Click here for details of working parties
| | | |
| --- | --- | --- |
| Public Spaces | Schools | Care Homes |
| | | |
Map of Community Garden projects


View Community Gardens in a larger map
Normal Schedule of working parties -

Please check out the calendar for late changes

here
| | |
| --- | --- |
| Mondays | |
| Tuesdays | |
| Wednesdays | |
| Thursdays | |
| Fridays | |
| Saturdays | |
| Sundays | |
---
Prestbury House Care Home
(Located beside the West Park Morrisons Store)
April 2015.


Our involvement began when Michelle Walton of Porthaven's Prestbury House care home contacted us about building a wheelchair-friendly rased bed for residents simalr to the one we had made at Belong on Kennedy Avenue.

With plans made and materials scheduled for delivery, we arrived to find that Michelle had already cleared the ground to receive the bed.

The frame was set out and the first panels applied

Local Tree Surgeon Joe Wells donated wood chippings to fill the lower level of the bed - reducing the cost of top soil needed.

and some tamping followed

When the topsoil was delivered, the scene was set for some serious wheelbarrow driving.

With the bed filled, we were ready to hand over to Michelle and the residents to start growing.

Just a few months later, there was plenty of produce to be shared with the kitchen.
---
Upton Grange Care Home
(Off Prestbury Road, SK10 4AA)
The first boards were levelled

April 2016.


Our involvement began when Samantha Jackson of Upton Grange Care Home contacted us about building two wheelchair-friendly raised beds for residents, similar to the ones we had made at Belong on Kennedy Avenue and Prestbury House, on a little-used are of lawn.


Two lorry loads of woodchip were generously donated by local Tree Surgeon and log supplier, Joseph Wells





So began the barrowing of woodchip subsoil, and six tonnes of topsoil, to make two 80cm high raised beds, optimised for wheelchair users and those with bad backs!
---
Upton Priory School
Contact: Alicia Clare alicia@bluesci.org.uk and mobile 07863 344051
In December 2012, Macclesfield MP David Rutley joined a packed event organised by the Parents Teachers and Friends Association at Upton Priory Primary School to plant a native copse of 61 trees at the school.
The project was supported by the Woodland Trust's 'The More Trees, More Good' campaign, which hopes to make a lasting impact on the UK landscape and is part of the Queen's Diamond Jubilee celebrations.
It also teaches children about the benefits of looking after the environment and protecting the forests of tomorrow.
Tree Pruning Workshop 16/11/13.


Local tree surgeon, Joseph Wells,
led this practical session using the trees
in the school's orchard.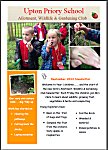 Alicia has published a series of monthly newsletters about the use of the school garden.
You can read them here
Creating a Wildlife Garden .

Growing fruit & Vegetables in raised beds outside front entrance.

Exploring and observing nature.
Learing about composting with Kyle and his compost pile.
Tree surgeon Joseph Wells can be contacted on 07900 991174 or joe128@hotmail.co.uk
---
The Railway Station Approach
We are very happy to have been awarded a grant by the Cheshire Community Foundation for just under £450 to fund a project to plant up and maintain two small plots of land, one on each side of the Station Approach, with fruit trees, bushes and vegetables. This an extremely high profile site and offers a brilliant opportunity to advertise Food4Macc in the heart of the town.
This work has the support of Cheshire East (Diane Smith, Town Centre Manager) and Val Lloyd of the Macclesfield Guild who do a fantastic job in planting and maintaining green areas around the town.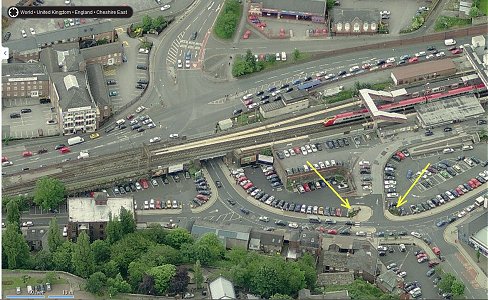 Contact Stuart Potter 07594 988977 or potter571@btinternet.com
or Phil Cole 07718 211598 .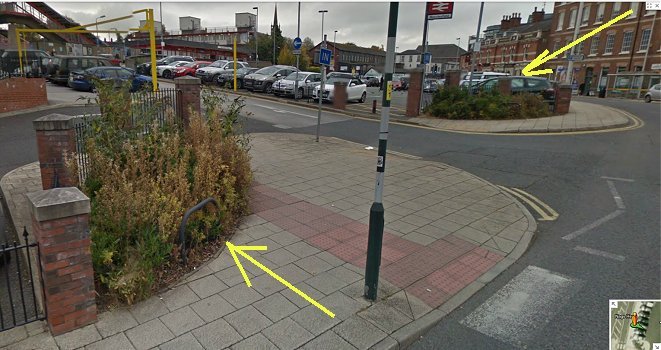 The first working party was held on Sunday 21st April to clear the site removing the dwarf conifers that had been planted there and enriching the soil with horse manure and blood, fish and bone.
Very many thanks to all twelve who turned up today to help clear Station Approach ground. It was a harder job than expected so it was really great to have so many people to help.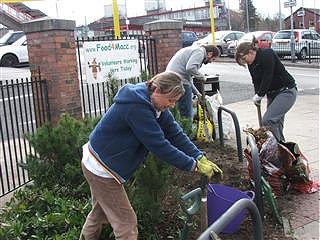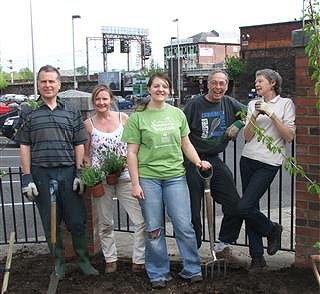 Last Sunday May19th they returned to plant apple and fruiting cherry trees, and various fruit bushes including blackcurrant, redcurrant and gooseberry plus a number of varieties of beans which will climb up trellises on the brick pillars. The fruit and vegetable plants will be augmented by lavender and other flowering plants which will attract pollinating insects to the area.
We hope that passers by will be intrigued by the fruit and vegetables grown there, and may hopefully be encouraged to try growing their own, or at least aim to buy more locally grown food.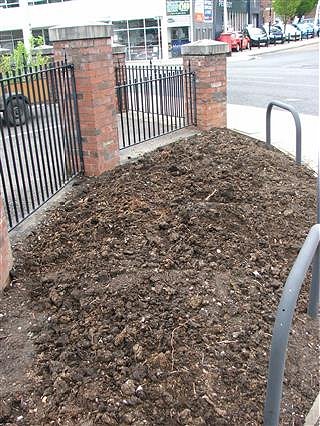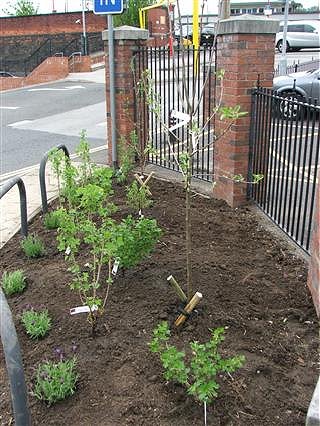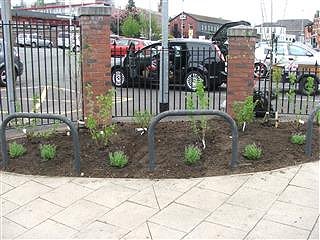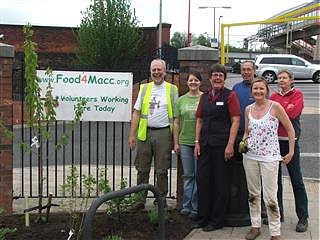 Contact Stuart Potter 07594 988977 or potter571@btinternet.com
or Phil Cole 07718 211598 .
---
Prestbury Beaumont
Orchard regeneration and new vegetable garden construction