Hire Out Your Motorhome?
Does your motorhome or campervan spend most of the year on your driveway or in storage? If you hire out your motorhome or campervan with us a couple of times a year, you could cover your running costs, and also to make some money as well.
Perhaps you are thinking of buying a camper or motorhome, mainly as a business investment? Either way, we can handle the advertising, and pre-sales correspondence for you at very low cost.
A 4-5 berth motorhome can earn you about £500 a week after all deductions.
We can guide you around the pitfalls. We will provide you with checklists to make sure everything is taken care of before you begin, and introduce you to insurers who will issue comprehensive cover while your van is on hire. Insurance can be bought for about £26 per day (£182 per week).
If you intend to hire for more than about 7 weeks a year, you can buy annual insurance more cheaply. The annual insurance covers both your private use and hiring.
You spend about an hour with each customer explaining how everything works at the start of their holiday, and you take a security deposit from the customer of between £750 and £1250, so if there is a little mishap along the way you have got it covered.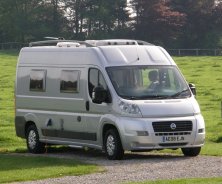 The amount your motorhome or campervan will earn depends on its age, size and time of year. Take a look at similar vans listed on the site, deduct about £230 from the weekly rates for your costs, and you will get a good idea of what you might earn.
It costs just £40 to add your van to our website
Most of our owners pay nothing else until we secure a booking for them. Then we ask that they pay us a £56 commission for every week of hire bookings we get for them.
(There is a minimum £50 commission for shorter hires).
We handle the pre-sales correspondence with the customer for you; we ask the customer to pay all money directly to you; and we ask you to pay our commission as soon as you have the non-returnable booking deposit.
Our commission is less than the non-returnable booking deposit, so you can't lose even if the customer subsequently cancels.
Alternatively
You can opt to handle all the enquiries yourself and pay just £20 a month to advertise, (with no minimum contract period).
---
The Next Step to Hiring your Camper
Read through our terms and conditions, and make sure you can hire on that basis.
We need at least three photos of your van including; one showing the front and side of the van, one inside looking forwards, and one inside looking backwards.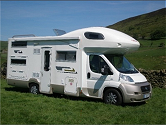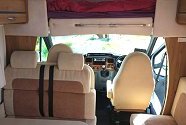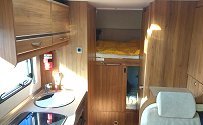 You can send in other pictures too. It is helpful to show the dining area, the cooking and showering facilities, and the beds made up looking cosy with pillows and duvet.
Fill out our specification entry form (Remember to save a copy to My Documents before you start).
Send the photos and the spec to us and we will tell you how to make the initial payment.
We ask that you keep us informed of dates that you don't want hires. We maintain a master availability chart so that we can match up customers who are flexible with suitable vans that are available for their dates.
---
A web page for your camper hire?
If you are interested in having your own web page, we can offer a simple page like this for a one off charge of £100 when you elect to pay the £10 a month advertising. Once the page content is agreed, subsequent edits would be £20 each occasion. (You can update the Google calendar yourself).
Alternatively we will give you a free link to your van's details that you can email to friends like this http://www.maccinfo.com/privatecamperhire/1245.html .
If you buy a domain name such as www.hogwartscamperhire.com you could 'forward' it, either to the web page we made for you, or to your advert on our main site. You can buy domain names very cheaply here .
For more information, click here or call 07926 911411