Guide to Motorhome and Campervan Holidays
Pick-up Location and Route Planning
If you travel by car, we offer free parking for your vehicle. Most clients want to pick up a motorhome near where they live, but it can also make sense to pick up a motorhome near to your intended destination.
This can save half a day of hire charges at each end of your holiday.
If you want to visit Ireland, the ferry from Holyhead takes you directly to Dublin.
Click on our interactive map to find more information about places to visit.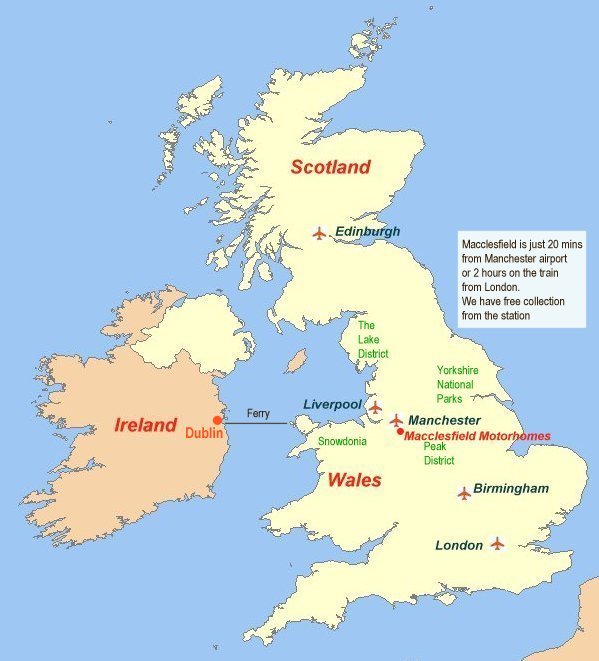 Choice of Hire Vehicle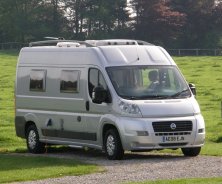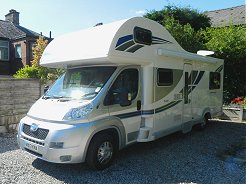 Size
Most people want their motorhome to be like Dr Who's Tardis; small outside, but big on the inside. The panel van conversions certainly feel smaller to drive than coachbuilts, but the difference is more in height and length than width.
The small size of the panel vans does give confidence when negotiating narrow country lanes, and they are much easier to fit into parking bays, and car parks.
If there are more than two people in your party the bigger vans come into their own. It is a good idea to choose a van with more beds than you need.  If you can avoid converting the dining area into a bed at night, it allows individuals to go to bed and get up when they like without preventing the others from doing something else. So a 6 berth van is usually recommended for a party of 4.
Weight
Vehicles over 3500kg require a "C1" category licence. This is automatic if the driver has held a full licence since 1st Jan 1997, but newer drivers have to pass a separate test.
Beds.
A fixed double bed is a great time saver if you have the space for it. Bunk beds are generally adult sized, and fun for children who often prefer them to sharing a double bed with a brother or sister.
Storage.
Some have a large storage locker (or "garage") accessible from outside. This is often found under a fixed double bed, or is made by hinging up the bottom bunk.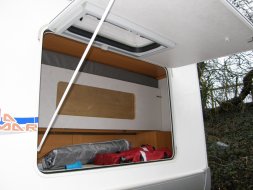 Toilet
Most vehicles except the smallest campers will have a toilet fitted.  These add a great freedom when touring, avoiding the need to search out public toilets. The cassette design makes toilet emptying quick and hygienic
Shower
Very useful if you are camping away from sites, but otherwise people generally prefer to use the campsites facilities, which offer more space and unlimited supply of hot water.
Awnings
A simple roll-out awning on the side of a vehicle can add a great deal to the enjoyment of a motorhome in hot weather, but they are easily damaged by careless use and high winds.
Drive-away awnings are really free-standing tents that attach to the side of the vehicle.  They can hugely increase the sleeping accommodation of a small van – provided there is space inside to stow it when travelling.

Length of Holiday
You will get a better price per day on a longer holiday than a short break. This is mainly because it is the same amount of work for the owner to clean and prepare a van for a 3 day hire or a 3 week hire. It also takes the owner about an hour to explain the workings of a campervan at the start of the hire.
Weekend bookings can also prevent the van from being hired in the weeks before and after the weekend. For these reasons, owners may apply a minimum hire charge or be reluctant to take weekend bookings several months in advance, but welcome them as last minute bookings to fill gaps in their availability.
Other useful Information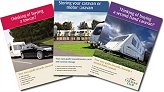 Caravan Club - Advice and Guidance
Favourite Campsites
Jarman Farm campsite Macclesfield, a charming farm site, convenient for the Peak District, and just a stone's throw from Manchester.