---
Be Seen
'Failure to Look Properly' accounts for around 50% of cycling collisions.

"Sorry mate, I didn't see you! "
This is so commonly heard after a cycling collision, it has its own acronym:- 'SMIDSY'.
People driving cars should see all potential hazards and obstacles in their path, but in practice, people are fallible and don't always succeed.
You can't do much to improve other people's driving standards, but it is easy to make yourself more visible, to better catch the eye of other road users.
A white or brightly-coloured top is a good idea.
The last thing you should do is swap your normal clothes for something darker or more drab.
---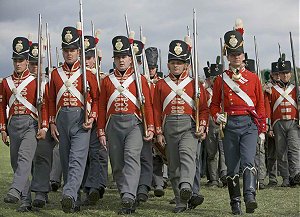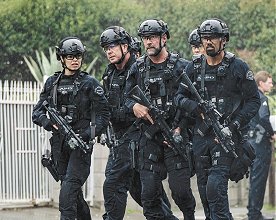 For obvious reasons, in 1885 the British army stopped wearing Hi-Viz red coats in battle.
Today SWAT teams wear black so they won't easily be noticed.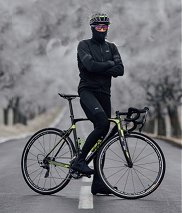 Unfortunately, it seems to have become fashionable for some cyclists to conceal themselves in the same way.
Do they imagine themselves as Ninja warriors, stealthily cutting a path through motorised traffic?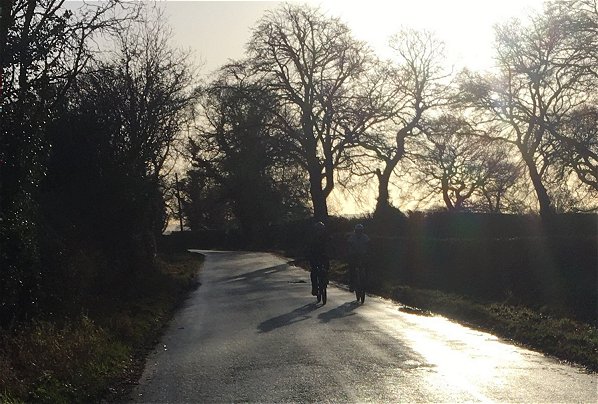 Are they more risk-taking by nature?
Do bright colours offend their fashion sense?
Or have they simply not thought about this?

If you ask why they wear black, answers include:-
"Black looks cool",

"Black is very slimming", and

"Motorists don't see us whatever we wear".

Apart from common sense, there is also data that contradicts this last point:-
Yellow jackets have been shown to halve cycling accidents.
The manufacturers of all-black outfits sometimes point to small reflective detailing on their jackets. This cuts no ice however, since 78% of cycling injuries occur in daylight when reflective materials don't work. (ref page 23)
---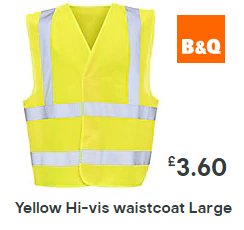 So, black or drab clothing should be avoided, and if that is all you have, an easy way to brighten an otherwise dull cycling outfit is to spend £3 - £4 on a lightweight waistcoat incorporating reflective material.
These are easily removed and stowed away to reveal your preferred clothing when you leave your bike.
Basic model or more stylish version.
These waistcoats incorporate both fluorescent and reflective areas.

That's because fluorescent 'Day-Glo' colours (pink, green, orange, or yellow) work well in low light conditions, converting ultra-violet sunlight into visible light, and brightening the surface. But at night or in fog, without UV from the sun, they are much less effective.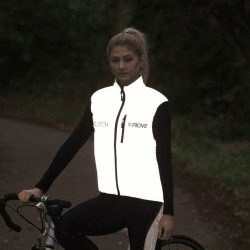 Reflective materials look bright in
car headlights, but dull grey in daylight.
So the brilliance of entirely reflective
jackets at night, is negated in daylight.

This gillet can be turned inside out to reveal a fluorescent fabric for daytime use.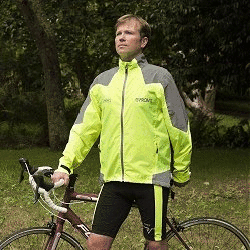 Or you can get full jackets
incorporating both materials
so they show up well,
both night and day.


---
Helmet Colour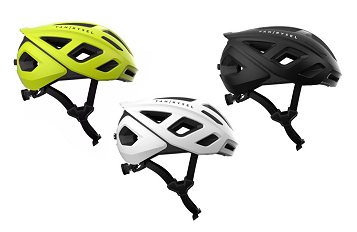 You might think that choice of helmet colour would have no safety value at all, but light glinting off a helmet is often the first noticed sign of an approaching, darkly clad, cyclist.

Research on motorcycle helmets showed white helmets were involved in significantly fewer accidents than black ones. Yellow or orange helmets were better still.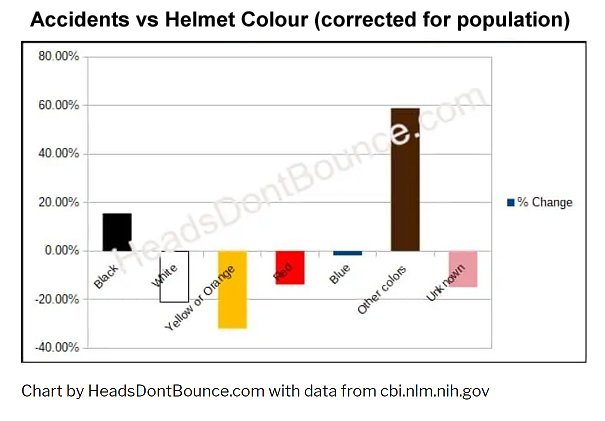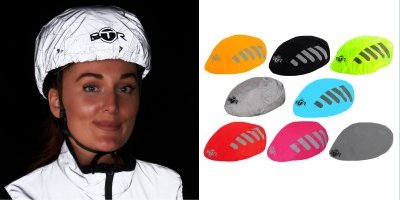 These helmet covers are a cheap way to brighten up a dull helmet - and keep your head dry when its raining!



---
Hi-Viz Accessories

There is a huge range including rucksack rain-covers, gloves, overshoes, arm warmers etc. Items attached to your legs or feet really catch the eye.
---
Lights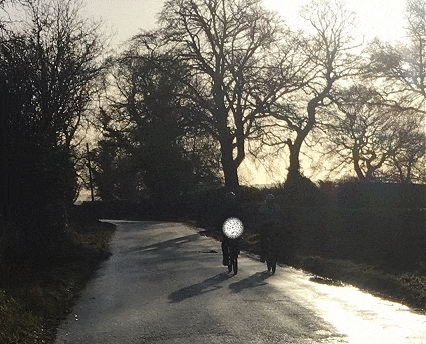 Bright flashing lights front and rear, can be very effective even in daylight, making the cyclist more likely to be noticed 'out of the corner of the eye'.
These devices also make motorists think an approaching cyclist is going faster, and so they are more likely to wait for a cyclist at junctions.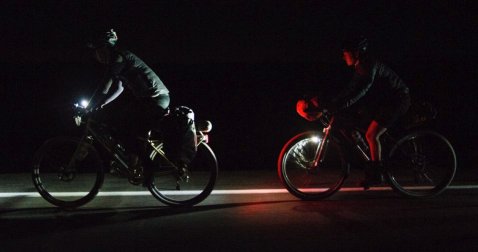 But when viewed from the side, lights are not as effective as hi-viz clothing (Note: side impacts account for 35% of collisions) .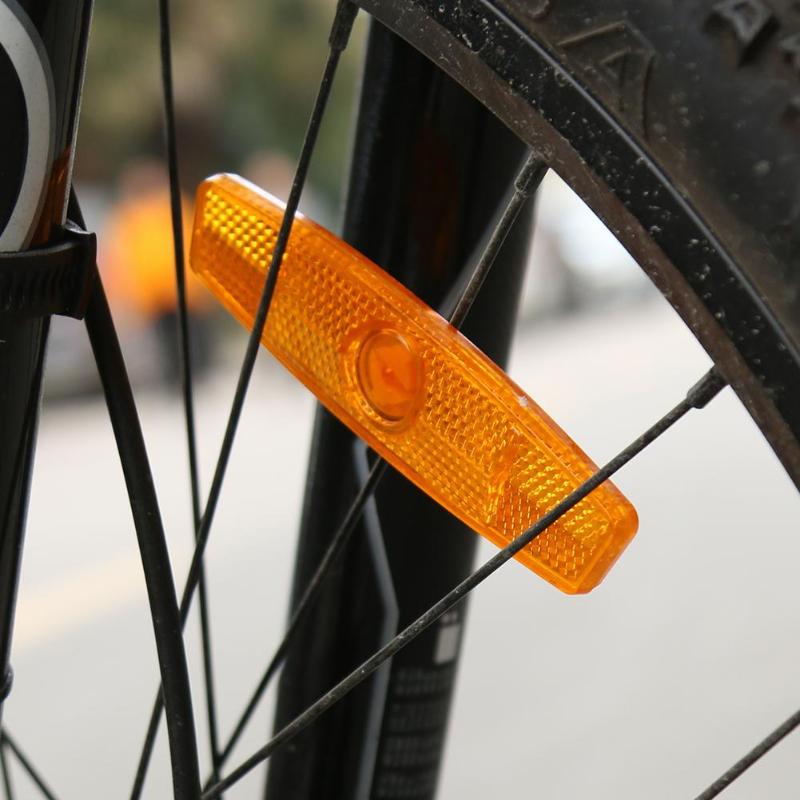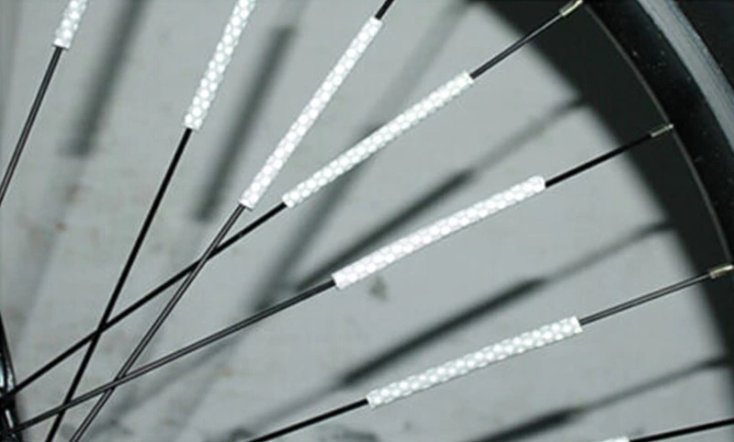 At night, wheel reflectors, or spoke reflectors make bikes more visible from the side.

The Schwalbe Marathon Plus tyres have reflective sidewalls, and claim to be virtually puncture proof - a good thing on your ride to work or school!