---




Drive Safely

in Snow and Ice

Your 5 minute guide to
Winter Driving.
(Disclaimer: This advice is offered for your consideration, but the author accepts no responsibility for errors or omissions)
Before you Start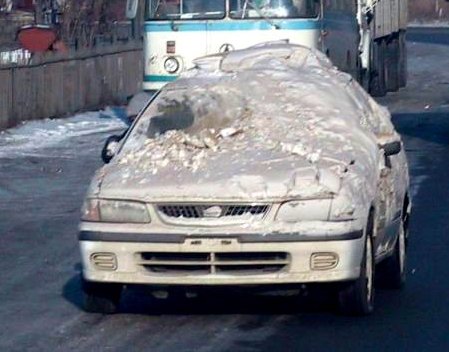 Set off early. Allow yourself the extra time to drive more slowly. Other motorists will be driving slowly, and overtaking may not be an option. You don't need the extra stress of being late for an appointment.

Is it a good time to car-share?

Clear snow off all windows and mirrors before you set off; you may need to reverse out of trouble.

Don't leave a lot of snow on the roof. It has been known to slide forward under braking and cover the windscreen. Or, as a sheet of ice, fly off at speed, breaking the windscreen of a following car. Watch here.

Clear front and rear lights, so other people can see you and your signals.

Use dipped headlights.
---
Other Traffic
Driving in snow requires anticipation of other road users behaviour, as much as looking after your own car.

Watch the behaviour of oncoming traffic; you may have to avoid them if they slide towards you.

Expect other road users to be unable to stop at junctions.

Cars approaching a narrowing of the road uphill, will not want to stop in case they can't start again. Cars approaching downhill, may be unable to stop without skidding.

Try to leave a 10 second gap between you and the car in front.

The 10 second gap allows for increased stopping distances, and gives you time to respond if the car in front has problems.

If they stop, you may have time and space to steer a different course, or by slowing down you can allow time for the obstruction to clear without having to stop and restart yourself.

If the car behind is too close, find a good place to stop and let them go on ahead. (Then you can concentrate on the road ahead)
---
---
Driving on Ice
Unlike snow, ice is often invisible. You have to guess where it might be.

Look for reflections in the road surface ahead; what looks like water, may be ice.

Are roadside puddles liquid or frozen?

If the swishing sound of your tyres on a wet road goes quiet, you may be on ice.

One of the first signs of slippery conditions is if the steering becomes lighter to turn.

The normal tendency of the the steering to self-centre when you let go of the wheel becomes less powerful when the front wheels lose grip.

If you are aware of this effect, you can feel the reduced resistance to your steering wheel movements as the road becomes slippery.

The action of Anti-lock Braking Systems (ABS) is felt as a vibration of the brake pedal. If you recognise that sensation, it can give you early warning of slippery conditions.

If roads are slippery you may see these dashboard warning lights flash when wheelspin is detected under acceleration. They indicate that ABS is being used to slow the fastest turning wheel, and/or the accelerator is being reduced momentarily .

Bright sun and a warm wind can quickly thaw ice, but leave patches in sheltered areas, so be vigilant where a wall casts a shadow over the road.

If you travel a road regularly, note where water collects on the road and may freeze.

4x4 vehicles aren't any better than a conventional car on ice. Having two extra driven wheels gives extra traction in snow but they have the same number of braked wheels as an ordinary car.
So, steering and stopping is no better. In fact being heavier, they tend to have longer stopping distances. There is a danger though, that 4x4 drivers expect to have an advantage, and travel faster than is wise.


---
---
Skid Avoidance
Drive gently; avoid harsh acceleration, hard braking, abrupt downward gear changes, or abrupt steering movements. These can all cause a skid.
Avoid Wheel Spin
It is difficult to control your car if the wheels are spinning. Try starting off in second gear to avoid spinning the wheels. Accelerate gently and change up early.

If the wheels start to spin, you may instinctively accelerate "to keep going", but that is the wrong thing to do. Spinning wheels have less traction than wheels that are engaged with the snow.

Gently lift off the accelerator until the the wheels grip again, then gently accelerate.

If you keep spinning the wheels where the road slopes to the side, you will slide sideways and risk hitting the kerb, a wall, or another car.

Braking
Brake gently without locking the wheels.

If you lock the front wheels they don't steer anymore; the car just goes straight on as shown in the short video below.


If you have ABS, it will repeatedly release the brakes momentarily and then re-apply them, to keep the wheels going round enough for you to steer.

But remember ABS stops working below about 4mph, so progressively lift off the brakes as you come to rest. Otherwise you may continue to slide slowly and gracefully into an obstacle.

In soft deep snow ABS helps you steer, but the NHTSA reckon it may actually lengthen stopping distances. This is because a locked wheel may be slowed by building up a wedge of snow in front, and ABS prevents that.

If you are sliding down a hill, you may have to be brave and release the brake pedal while you regain steering control, then gently reapply the brakes.

If you don't have ABS, pump the brake pedal on and off to give alternate moments of braking and steering.

4x4 (four wheel drive) vehicles can keep going in slippery conditions, but their brakes are no better than an ordinary car, and being heavier, they tend to have longer stopping distances - even in good conditions.
Engine Braking
You can avoid having to brake at all by using "engine braking" - select a low gear on down hill stretches. Do this before you begin the descent.

Normally, when you release the clutch after changing down, the car's momentum speeds up the engine to match the road speed in the lower gear. In snow, the tyres may not have enough grip to do that, and it can cause a skid.

So release the clutch gently and use the accelerator to help match the engine speed to the lower gear.

It is difficult to drive smoothly in first gear. Use second gear unless you are absolutely at crawling speed or descending a steep slope.

If it is very slippery, and the car starts to slide under engine braking, you may have to be brave and apply light acceleration to re-match the speed of the wheels with the road speed, so that you regain steering control, and then try gently lifting off the accelerator again.
Cornering
Don't ask your tyres to steer and brake at the same time. They have to share the available grip between those two functions, so either one detracts from the tyres' ability to do the other.

Slow down to the right speed before you get to a corner. Make downward gear changes while you are still travelling in a straight line, then all the grip of your tyres can be used for steering round the corner.
---
---
Skid Correction
Don't brake! That will make it worse. The simplest response is to ease off on the brake or accelerator and try to keep the front wheels pointing where you want to go.

Pressing the clutch relieves the tyres of the job of engine braking and makes all their grip available for steering.

Skid correction is a skill that is not easily explained in a few words, but there are training courses available. They make an ideal Christmas or birthday gift and an entertaining day out for the family.

Front wheel drive and rear wheel drive cars behave differently:-



Front-wheel Drive Skid Correction: If the rear end slides, it is fairly intuitive to correct the problem by steering into the skid, trying to keep the car pointing in the direction you want to go.

But you should also release the brakes and apply some more power, to pull the front of the car back into line, and to use weight transfer to give the rear wheels more grip.

If the front end slides under heavy braking, you must release some of the brake pressure.

An expert would also apply a dab of handbrake, but before you try this, you need to consider that there is a risk of making matters worse by spinning the car and hitting something sideways. (See "If it all goes wrong" below). Don't try this with an electric handbrake. see below.

If the front end slides even when you are not braking, then lift off the accelerator a little - not abruptly - and hope that the front wheels will regain some grip before it is too late.



Rear-wheel Drive Skid Correction: If the rear end slides, it is fairly intuitive to correct the problem by steering into the skid, trying to keep the car pointing in the direction you want to go.


But you should also apply less power to allow the rear tyres to use what grip is available to resist sideways motion.



Straightening the steering: As mentioned above, the normal tendency of the the steering to self-centre when you let go of the wheel doesn't work in slippery conditions. see above.

This lack of self-centering also means you have to straighten the wheels yourself.
In skid-correction it is easy to lose track of which way the front wheels are pointing.

---

---

Tyres for Winter Driving

If you are concerned about driving in snow, get your tyres checked now - before you need them. Good tyres can make all the difference between reaching your destination or not.

UK law allows as little as 1.6mm tread depth, but performance declines rapidly below 3mm, and in Canada they recommend at least 5mm for winter driving. New tyres have 9mm tread depth, so if your tyres are near to 3mm, change them now!

Fit Winter Tyres rather than buy a 4 wheel drive car.

Auto EXPRESS magazine has published two videos showing the shorter stopping distance of winter tyres and how they allow a front wheel drive car to climb a snowy slope better than a 4WD on all-year round tyres(!)

If a 4 wheel drive car is fitted with "Sport" tyres, optimised for grip in summer, the tyre's poor snow grip may undermine the advantage of 4 wheel drive.

Tread pattern has a big effect on grip in snow. You might expect snow tyres to need big chunky tread patterns, but they also use fine side-to-side slits in the tread that help them stick to the snow crystals (rather like when you roll a huge snowball). These give a big improvement in both traction and stopping distances on wet roads as well as ice and snow.


Below 7 deg. C. the rubber of normal tyres becomes stiff and less able to mould itself around the stones in the road surface, reducing the grip available.

Winter tyres use a rubber that remains supple below 7deg C.

From 30mph winter tyres will stop you 8 metres shorter (two car lengths) on snow.

The UK has average temperatures below 7 deg C for 4 months a year, so winter tyres are valuable even without snow.

Their use in winter is compulsory in some northern European countries. They don't limit your speed, and some people use them all year round.

---

---

Snow Chains

Chains will transform the amount of grip you have on snow and ice, but you should remove them when not needed, and they are generally limited to about 30 mph.

They cost from £35 a pair and the video clip below shows how they are fitted to a wheel here in 48 seconds.


The latest advance in temporary grip improvement is the AutoSock.
This is like an elasticated belt of textile that 'sticks' to the snow crystals.

They are more easily slipped on to the tyre, than chains.

They are also more compact and lighter to carry around in the car, but are less durable.


The video clip below shows how Autosocks are used:-



---

Deep Snow and Drifts

The deepest snow obstacles occur when high winds blow the snow around, scraping it from open ground and depositing in more sheltered areas.

Roads bordered by hedges, walls, or embankments are often filled with snow drifts.

Beaching: More troublesome is when drivers pick up speed on a road that the wind has blown clear of snow, and then suddenly encounter a tall "dune" of snow across the road - often where a field gateway has created a gap in a sheltering wall or hedge.

The white dune is difficult to spot in a generally white environment, and it presents a dilemma: Whether to keep going hoping that your momentum will take you through it, or try to stop and investigate?

If you don't make it through, you can often end up beached, with the car supported on snow tightly packed underneath it, and very little weight on the wheels - which of course spin uselessly.

It is then extremely difficult to get this tightly packed snow out from under the car, and very difficult to move the car without several people to push or a tow rope.

Ground clearance makes difference:
Clearly a normal passenger car with chains, or having four-wheel drive has a big advantage in many slippery conditions, but deep snow dragging on its underside will stop it where a vehicle with higher ground clearance might be able to continue.

If you need towing, you may regret not bringing a tow rope. Also remember your car is probably provided with a towing eye that screws into the front bumper - after you have removed a small (usually square) cover. Be sure to screw the eye in all the way. If you rely on just a few turns, the eye can be ripped out by the tow truck; something that is not easy to repair.

If you get totally stuck in snow. Remember that your car is a good sheltering place. Make sure you have adequate clothing and footwear before choosing to leave it to walk home.

There is a danger that if you run the engine to make use of the heater when the car is stuck, the exhaust pipe may become blocked by snow. People have died of carbon monoxide poisoning in this way.

If possible try and leave your car where it won't be a problem to other traffic and snowploughs.




---

---

Advanced Snow Driving Techniques

Find out if your car has front wheel drive or rear wheel drive. (Most small cars are front wheel drive today).

With front wheel drive, you can use a little power to pull the front of the car around a corner, or zig-zag up a steep slope. Too much power when turning a corner can cause wheel spin, reducing the front wheels' grip on the road, and making the car go straight on or "under steer".

With rear wheel drive, extra power makes the back of the car slide outwards on a corner, or "over steer", and zig-zagging to get up a steep slope will result in fish tailing.



Friction: Remember that friction between two surfaces increases with the force that presses them together. So put heavy things (like passengers) as near as possible to the driven wheels.



Weight Transfer under Acceleration: You have seen dragsters lift the front wheels off the ground entirely under hard acceleration, transferring all of the vehicle's weight to the back wheels.

To a lesser degree, the same thing happens when a road car accelerates - you may see the bonnet rise a little and the rear of the car squat down.


In a front wheel drive car, if the back end is sliding, applying some power moves weight onto the rear wheels and helps them grip again.



Weight Transfer under Deceleration: The opposite is also true; If you brake, or lift-off the accelerator abruptly as you turn a corner, it moves weight forward, making the front wheels grip more and the rear wheels light, and therefore more likely to slide sideways.


To recover from a slide caused by abruptly lifting off the accelerator in a front wheel drive car, you should gently re-apply the accelerator - to transfer weight back onto the rear wheels, and to pull the front of the car in the desired direction.



The Handbrake works on the rear wheels only. For this reason some people prefer to use gentle handbrake pressure to retain steering control whilst slowing the car.

This only works with hand operated lever handbrakes, where you can apply a little or a lot of braking.
The new electric / automatic / push button handbrakes are either fully on or off - and the car's electronics get involved in how it is released.

The handbrake can overcome ABS, building useful wedges of snow ahead of the rear wheels (see above), but once stopped the rear wheels my slide sideways as shown in the video above.

But you must be careful to do this only at very slow speed and do it gently.

It is not easy to sense how well the handbrake is working. Be careful!



Handbrake Turns: Rally drivers sometimes steer into a corner, then pull sharply on the handbrake momentarily to lock the rear wheels. This makes them slide sideways, turning the car faster than could be done by steering alone. But before you try this, you need to consider that there is a risk of making matters worse by spinning the car and hitting something sideways. (See "If it all goes wrong" below).

The handbrake is easier to use in a front wheel drive car because the hand brake does not have to overcome the power from the engine on the rear wheels. Back up to Skid Correction



Reversing Uphill: If you are really keen, front wheel drive cars will sometimes climb a snowy slope better in reverse gear, because having the back of the car higher than the front puts more of the engine weight over the driven wheels.

This unlikely approach does also mean that if you run out of traction and fail to climb the slope, you are at least facing the right way to control your descent back to the bottom of the hill.

This avoids the problem that if you fail to climb up a steep snowy slope in the normal forwards direction, you can find yourself sliding downhill backwards.

The reduced visibility when reversing, means that this method should only be tried if you have cleaned snow off all the windows, and are sure about the intentions of other traffic.

---

---

If you can't avoid a collision

If after all your efforts you can't avoid hitting something, remember your car offers you more protection in a head-on crash than a side impact.

There is a lot more energy-absorbing metalwork between you and the front bumper, than between you and the outside of the door.

Seatbelts and frontal airbags work much better in a frontal impact, and many cars don't have side-impact airbags.

If you slide sideways into a kerb or soft ground, your car may roll over (particularly in a tall 4x4 vehicle), whereas if you hit them forwards, you will probably keep going.

So, travelling sideways is not good: if you are able to turn at the last minute, try to hit things head on.

---

Share:

If you found this page interesting, please 'Like' this page on Facebook

or send this link to your friends:- www.drivinginsnow.net

If you would like to comment on this guide to driving on snow and ice, please email feedback@drivinginsnow.net