Feedback: enquiry@notjustonce.org
---
Free Drinking Water Refills in Macclesfield
Join over 100,000 users of the Refill app in making use of 14,000 refill stations in the UK.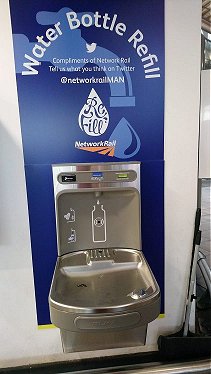 'Refill' is a nationwide scheme to encourage people to use a refillable water bottle, to reduce the pollution caused by single-use plastic bottles.
Several businesses in Macclesfield offer free water refills without obligation to buy. They display this sign, and they are shown on the map below.


You can get the same information on your phone by installing an App.

Persuade local shop owners to offer free refills and join the Refill scheme.

Download the App from Refill.org.uk to locate free water near you.

Log Your Refills on the App - and Water UK will donate 13p to the scheme each time.


Dispel the Myth that plastic water bottles are dangerous to re-fill.
See the BBC video clip. (Want to know the source of the myth?)

How to Add a New Refill Station. This is more easily done with the App, than on the website, and if you can have the details of the premises open on another screen, it is easy to enter the details into your phone. (Note 12/12/18: The App is sometimes returning a false error message, but usually new stations are correctly recorded - so don't repeat the process unless your station fails to appear within a few days! Engineers are working on the error).

How much does a water refill cost the provider? If a water meter is fitted, United Utilities charge about £3 per cubic metre. So one hundred half-litre refills would cost a total of 15pence.



---