First Draft Meeting Notes 19/11/18

Young People
Setting up an Eco-council between schools
Three schools Tythy, All Hallows and Macc Academy, (who incidentally share the same caterer), met last Wednesday and plan to meet again before Christmas
Been making Ecobricks (stuffed bottles - for use in sculpture, garden benches, planters perhaps.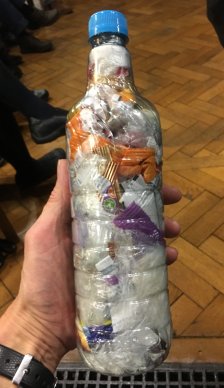 Tytherington has acheived a bronze award in the Eco Schools Scheme and is now aiming for gold.
Ref Jane (garden Designer), John Tilly (?), Cob construction?
Following a series of assemblies at Tytherington School, there is noticeably less litter on the Middlewood Way adjacent to the school.
Stop Press 14/12/18
Ester applied for a grant for £500 for youth led projects from Grow Wild UK the outreach arm of Kew Gardens to help with creating some Eco Brick Wildflower beds and she found out today that she's been awarded the funding! She's grateful for everyone's support and encouragement and hoping that everyone will help by creating Eco Bricks to build the flower bed. She'll share more news about her plans soon.

Pollenators
Hoping to encourage the council to make better choices of flowers that support pollenators.
The group is going to review the Friends of the Earth action plan and then approach the Council to propose actions for Macclesfield.
A guide for what plants are good for pollenators could be offered to home gardeners. Eg RHS Guide
Wasps are good pollenators but have few friends.

Repairing
This group is still at a formative stage.
Considering both repair cafes and Tool sharing.
Liked the mug library idea for outdoor events.
Met again on Monday 3rd December at 7.30-9pm , at the Jolly Sailor on Sunderland St. See latest status update.

Plastic Reduction
Could we encourage small coffee shops to offer a bring your own mug discount like the big chains do?
The idea of a Green rating sytem for businesses to display, like the hotel star rating or Food hygiene rating signs.
Some debate about 'bring your own container for hot food' (the tiffin system) vs food hygiene risks with hot food.
The power of customers asking for retailers 'greener' hot food containers.
Cheshire East's In-Vessel Composter due autumn 2019 will facilitate the use of compostable cups, plates and cutlery.
Good to offer retailers a solution 'on a plate' a list of sources of greener single use items. eg Treacle Market's suggested supppliers
A mug library at outdoor events.
What recycling is offered by commercial waste collectors?


Litter (pollution)
Two Poundshop litter pickers were given away.
Although these cost only £1 they have been tested for a few hours and haven't broken yet!

The group aims to encourage solo litter pickers rather than trying to mobilise large groups, but does hope to make the 'soloists' aware of each other's activities using a Google Map, and to make the public more aware of that this activity is taking place.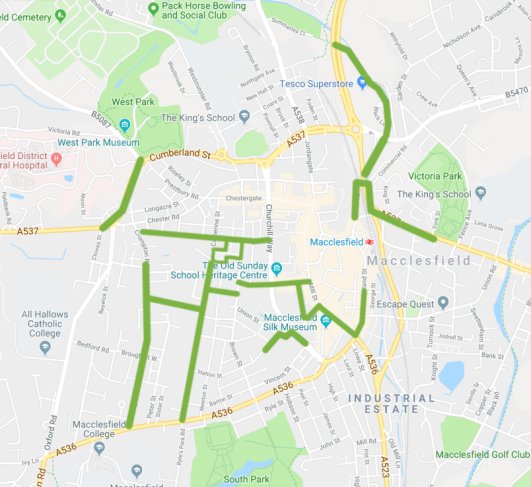 Now want to identify 'areas of need', and get in touch with local business for support - either in giving access to their bins to dump what has been collected, or to encourage them to clean areas adjacent to their premises - eg Tesco and the bank of the Bollin river.
Sue and Gill had an amusing photo of their Hi-Viz outfits, and had started weighing what they collected with a handheld luggage scale. Current record for a Sunday morning 5.6kg.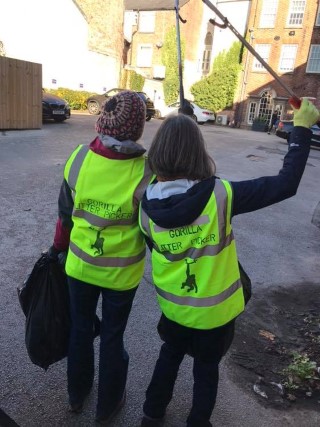 Need to get in touch with community groups in Hurdsfield, Upton Priory and a Canal group who do similar work.
The Scout movement can probably also help - as part of their community badge activities.
TerraCycle - take back some wrappers


Transport
This was the first session of this new group, and their interest centred on reducing school-related traffic; exploring ideas such as walking, cycling, car sharing.
(possibly link up with the Young People's group on this topic)
Better cycling facilities in the town.
Incentives to reduce car use and improve air quality.
(Note the Civic Society's talk on air quality on Wednesday 21st at the Heritage Centre.)
Question whether inter-city or inter-town buses could offer lower fares on the suburban section of their routes to encourage shoppers to leave their cars at home?

Policy
The Town Council is very receptive to input from these groups in devising the town's sustainability policy, and has already adopted some suggestions put forward.
Each is encouraged to make contact with Pete Turner. 01625 374142 or pete.turner@macclesfield-tc.gov.uk

Progess
Since the last meeting we have signed up several cafes to the Refill water bottle scheme .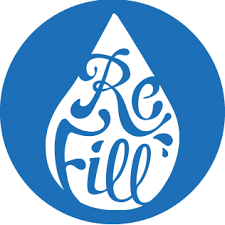 Have launched our temporary website www.macctastic.org and have found a volunteer to make us a good website.
Our Facebook Group has 198 members.

Purpose
Everyone was asked to put forward their view of what they wanted Mactastic to be about on Post-it Notes.
These are to be viewed and some consensus drawn.