Ways to Support Local Food Production
Spread the word with Facebook

If you have a Facebook account just click on the links above to Like or Share the Food4MaccDirect website, our on-line farmers market.
---
Become a member of Food4Macc
If you would like to make a financial gesture of support for Food4Macc, we have a £9 per year Membership Scheme which offers 10% discounts at Flora Garden Centre, Macclesfield Community Garden Centre in West Park, and off Norbury's Garden Machinery servicing.
Find out more about membership here
---
But you don't need to be a member to join in - everyone is welcome!
Get your hands dirty,
Work alongside experienced gardeners in our Community Gardens.
Enjoy being part of a team working in the fresh air, and learn new skills to use in your own garden.
Publicity and administrative support is always welcome.
Print off our programme of events and display it at your work place.
Display the Free Car Sticker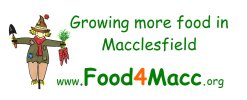 Just ask for one!
Give us your Knowledge!
If you are knowledgeable about gardening maybe you could offer to advise less experienced gardeners, visiting their garden or just giving telephone advice?
Keep us Informed of your Progress.
Obviously you could start to produce your own food at home without involving Food4Macc at all - but we would be pleased to hear that you are planning to "have a go" - it encourages us if we hear that we are making a difference.
Donate
Donations in any form are most welcome:- money (of course!), but also plants, fruit bushes, fruit trees, compost, manure.
For example, apple trees can be bought for about £20. If you would like to donate one, or a mini orchard of five trees, please contact us. Autumn and winter is the time for tree planting. email us about trees .

You can pay by cash, cheque or bank transfer to:-
A/c Name: "Food4Macc", Sort Code: 08-92-99, A/c No: 65378191
Please ensure bank transfers are labelled with your name followed by the word "Donation"

Or you can make a PayPal donation here
Tell us about other groups with similar goals in Macclesfield.
Send us details of other local food sources to add to our Local Food Map
Recommend our Garden Share Scheme to friends or family who have unused vegetable patches; we may be able to find someone to use the land.
Display our posters at work, or local shops, or notice boards.
Contact us for more information at food4macc@gmail.com or 07824 860566