Garden Share GS038
Prestbury Village
- behind the main high street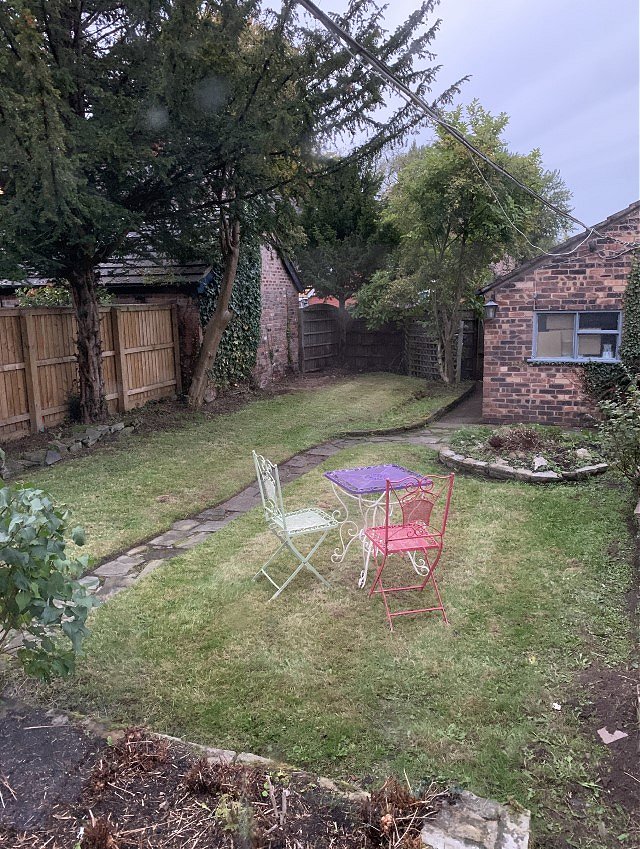 This plot is a little different to the GardenShare norm – it is the rear garden behind a business premises on Prestbury high street. The owner is somewhat busy with … er, business(!) and so, recognising that it is becoming somewhat 'wasted'/overgrown, is happy to make it available to the right person/people for use as a GardenShare.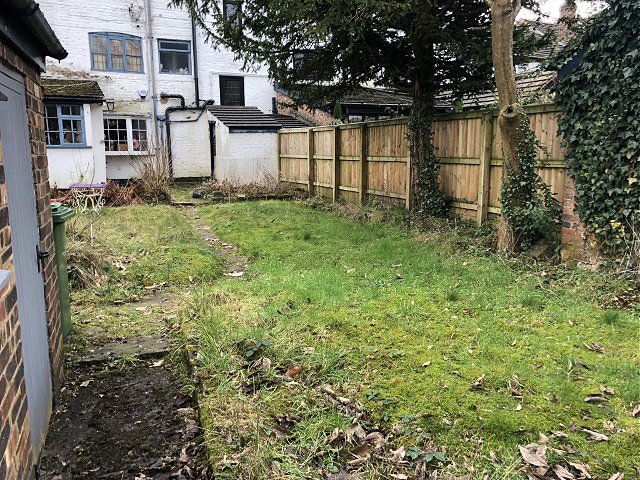 The plot is essentially a lawned area, approx. 7 x 15 metres, divided by a path and surrounded by 5 growing beds of varying sizes and shapes. Two of the beds are full length borders on either side, approaching 80cm wide – the three others are all drystone raised beds, shorter, more rectangular and with a maximum dimension of 2 metres.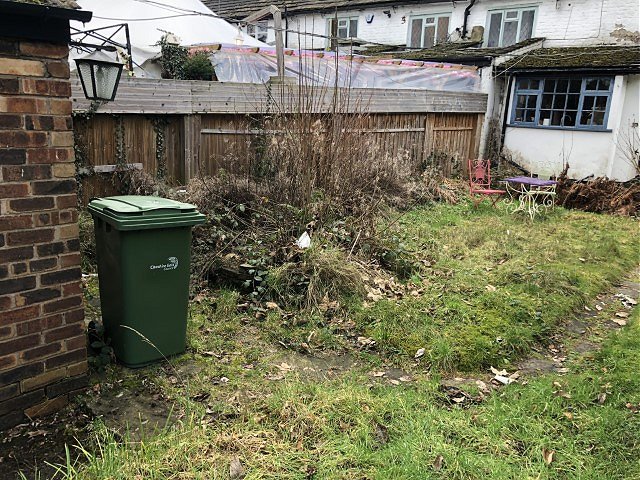 The soil is very productive throughout the plot but is somewhat overgrown, with the beds now looking a bit wild in the photos. These were all taken on a winter's day in January 2022 - except for one (you can easily spot it)! – taken previously after it had been 'spruced up' by local gardeners.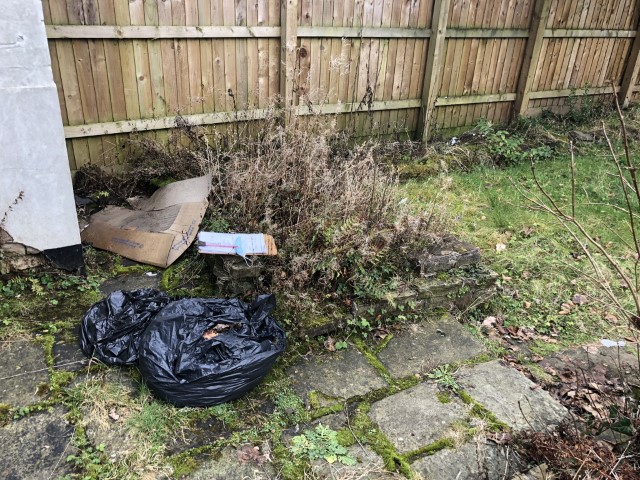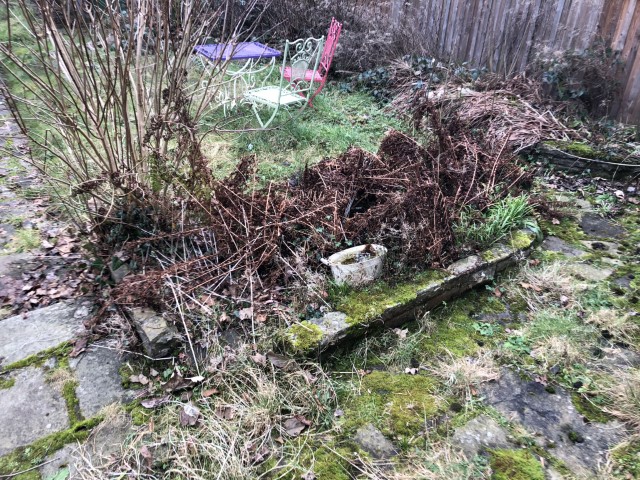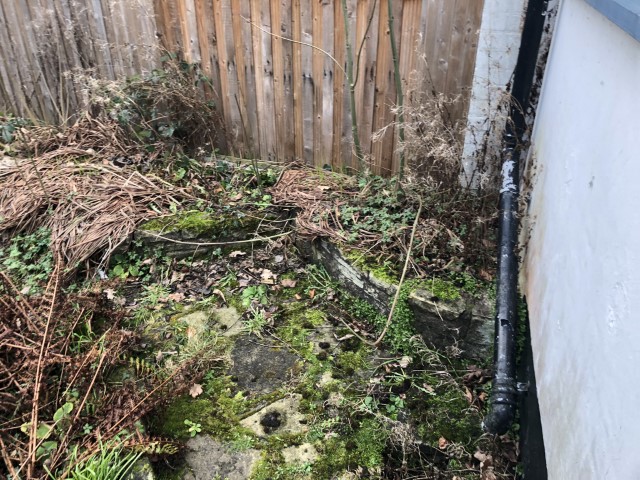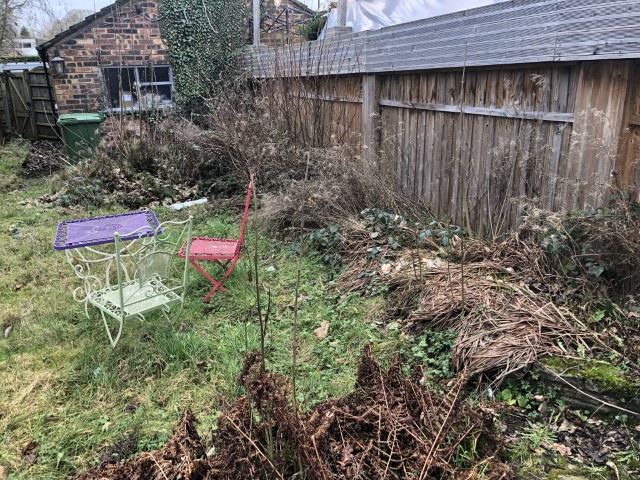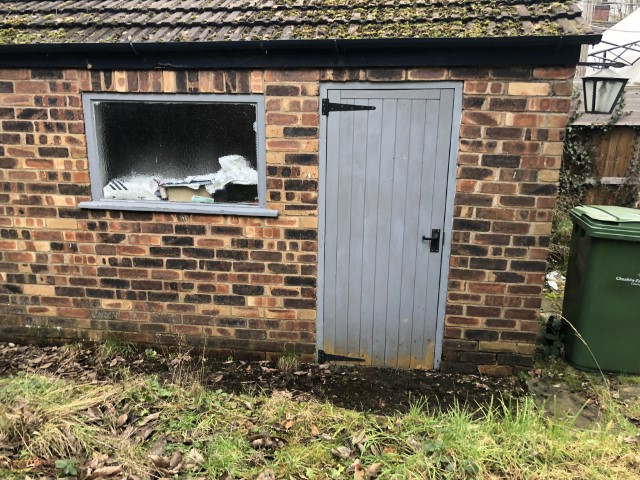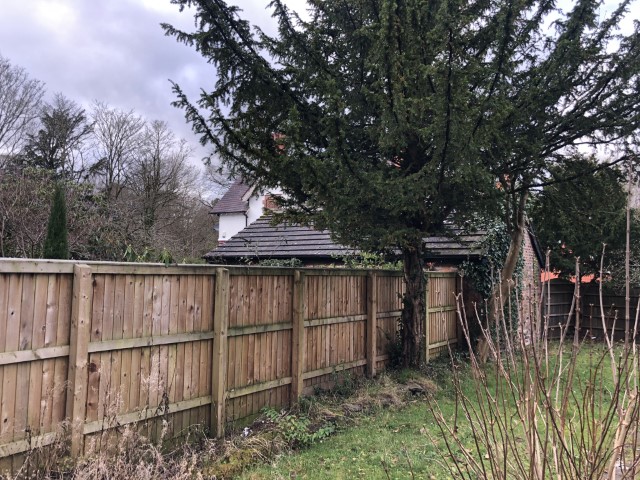 Hence you can get an impression of how it could look with some care. Currently, in situ there are a number of miscellaneous plants, bushes, etc

The plot is north-west facing and some of the beds are likely to be partially shaded in the winter months so the successful gardener would need to plant accordingly.

There is a brick out-house (no door) for storing tools/materials, etc – (the current contents - see photo - will be removed!). There is a mains water tap and access to mains power is available too in the adjacent garage (key available).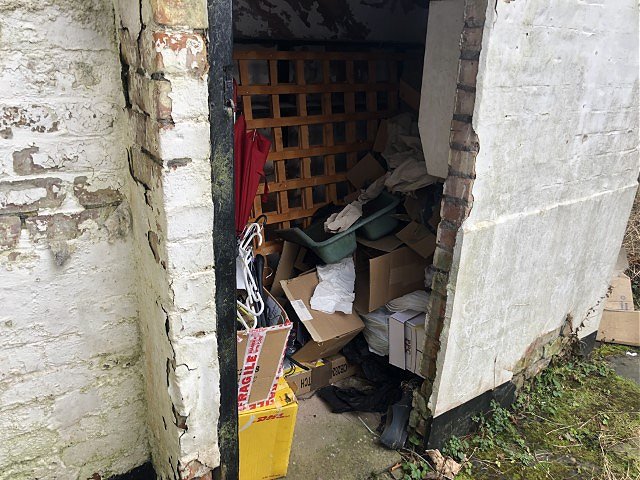 Access is on level ground via a locked wide rear gate (a key will be provided) and parking onsite is also viable behind the premises.

It is not suitable for children but well-behaved dogs would be acceptable. Non-smokers, please.

About the lawns – the owner would like to explore the possibility of the successful GardenShare person having a role in keeping the lawns tidy. A lawnmower is available in the garage. Items of value (e.g. small tools) could be kept there too – but larger ones would need to be in the out-house since the garage is in use by the owner.

This GardenShare is an opportunity to take advantage of an attractive location, with the (currently) modest sized beds appealing to those who do not want to spend too much time on it. The owner would be quite happy for more of the lawn to be converted to fruit/veg growing - note this is usually not the simplest of tasks!!
It could appeal to an individual or a couple with a horticultural interest - or to someone with previous gardening experience who simply wants to 'get on' with their own small allotment and keep themselves to themselves.

Whoever takes on this plot would most likely start by spending a little time readying/planting a couple of beds and confirming an approach with the owner re the plot looking neater - then readying/planting the rest of the plot as time allows.

For further details or if you have a suggestion to discuss with the owner then please contact GardenShare by email or phone.

---
New gardens are being offered all the time, if you'd like to be kept informed of these please get in touch.
Email for more details or to arrange a viewing:
Contact our Garden Share Coordinator Bill Pettipiece on
food4macc@gmail.com or 07710 878348
How to set up a Garden Share Scheme

Sample Draft Agreement for Sharing a Garden