Garden Share GS036
Chestergate / Chester Road Junction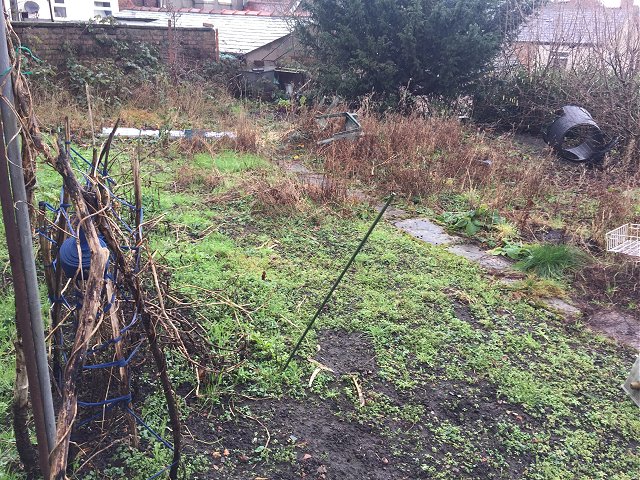 This Macclesfield plot is near the Regency Hospital.
This plot has an interesting background – it is in the grounds of a premises belonging to a small religious group. For 40+ years it has been used by members of this group to grow fruit/vegetables but now they are mostly unable to cope with it and so are willing to make it available to the right person/people.
The plot is essentially a single bed approx. 40 x 30 feet but separated loosely into smaller areas, e.g. by paving slabs laid on the soil. The soil is very productive throughout the plot but only about one quarter of it (one 'bed') was being used during 2018 – the remainder is somewhat overgrown, not having been used for at least a couple of years.
The photos were taken on a miserable day in January! Currently, in situ there are extensive fruit bushes and rhubarb crowns in several locations around the plot. There is a lockable shed - the group are willing to allow access to (and storage in) the shed and use of their garden tools, including a rotavator.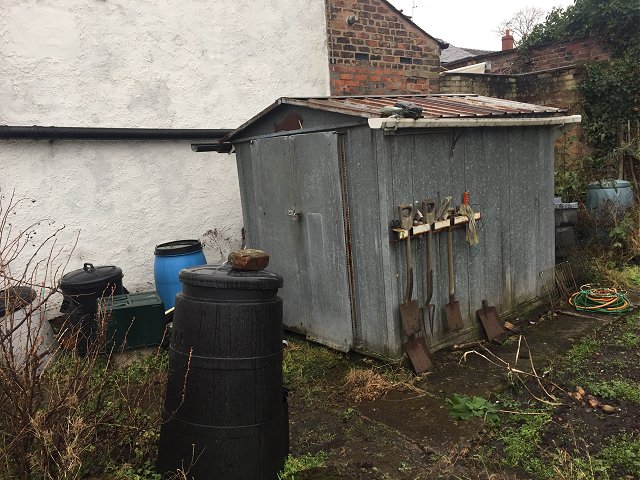 Mains power can be made available by prior arrangement. There are several compost bins and a compost heap. There is no mains-water access onsite however there are extensive rainwater capture facilities using barrels, etc.
Also onsite, there are many pieces of equipment typically found on an allotment – barrels, baskets, containers, pipework/guttering, bins, etc.
Parking onsite is viable most (but not all) of the time – parking restrictions apply when the group's weekly activities are occurring on Monday and Tuesday mornings, Wednesday afternoon and Sundays up until 4pm. Double yellow lines outside the premises mean that parking at these times could be in Whalley Hayes car park, or – depending on time of day, etc, on a sidestreet in the vicinity.
Access to the plot is up some steepish steps and hence there's no easy wheelbarrow access from car to plot. For similar reasons (and others too) the plot is unsuitable for young toddlers, however, well-behaved older children – and well-behaved dogs – would be acceptable. Non-smokers, please. In keeping with the group's beliefs, the preference is that a small portion of any surplus fruit/veg would be donated to a charity.
This GardenShare is an opportunity to take advantage of a community asset. There are a number of possible options on how it could be used. It could appeal to an individual or maybe a small group with a horticultural interest. The owners are open to suggestions for flexible use of the facilities e.g. dividing it into two/three/four areas. It could appeal to someone with previous gardening experience who simply wants to 'get on' with their own allotment and keep themselves to themselves – or it could suit one or more individuals who are happy to co-exist on a 'shared basis'.
Whoever takes on this plot would most likely start by spending a little time tidying the weed growth in the most recently used bed - then tackling the rest of the plot as time allows.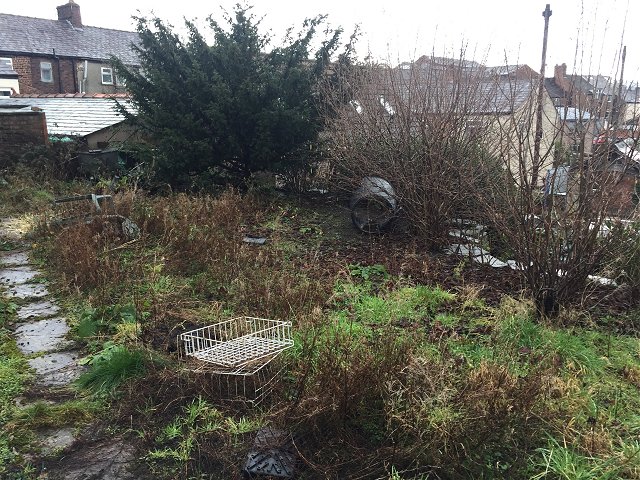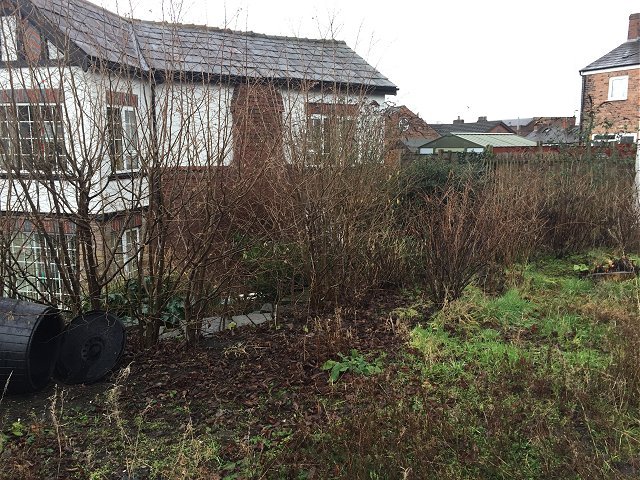 This plot is another example of what was once a productive vegetable garden potentially going to waste unless a grower comes forward who can make good use it – is that YOU?

For further details - or if you have a proposition - then please contact GardenShare by email or phone.

---
New gardens are being offered all the time, if you'd like to be kept informed of these please get in touch.
Email for more details or to arrange a viewing:
Contact our Garden Share Coordinator Bill Pettipiece on
food4macc@gmail.com or 07710 878348
How to set up a Garden Share Scheme

Sample Draft Agreement for Sharing a Garden