---
What to See
Manchester makes a perfect starting point to explore the National Parks of Wales Snowdonia, the Peak District, the Yorkshire Dales, the Yorkshire Moors and the Lake District. For music nostalgia, you are also near to Liverpool, home of the Beatles.
If you are interested in castles, stately homes or museums, you might like to visit the National Trust site .
For a £35 subscription you can get free admission to all their sites throughout the UK for a whole year.
The nearby M6 Motorway is the main North/South route to explore Scotland calling at Edinburgh on the way.
If you want to visit Ireland, the ferry from Holyhead takes you directly to Dublin.
If you want to visit London, it is best to stay on the outskirts and use public transport to go in to the centre.
Apart from the traffic and parking challenges in town, London has further measures in place to make driving less attractive: a Congestion Charging system and a Low Emissions Zone which excludes older vehicles.
Click on our interactive map to find more information about places to visit.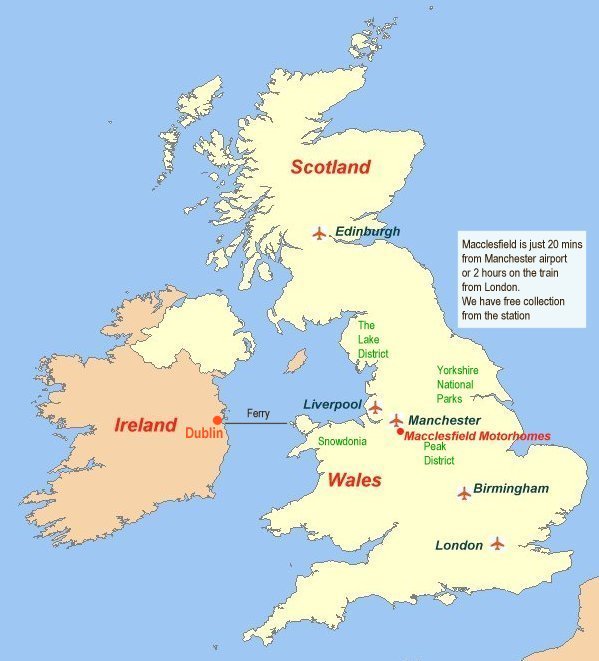 ---
Where to Stay
The main organisations that operate camping sites in the UK are shown below.
They both offer interactive maps so that you can find their sites.
By joining the Caravan Club for £42, you can save £10 per night on many sites, and gain access to some sites that are exclusive to members.
Free Camping or Wild Camping away from official sites. Many people enjoy the freedom of spending a night at remote beauty spots, particularly in Scotland. But it is important not to be an obstruction, and to leave no trace of your visit.
Many pubs and some supermarkets allow their customers to stay overnight in their car parks if asked.
There are websites such as www.motorhomestopover.co.uk who publish list of pubs where you can stop for free.
Off site camping is a bit of a legal grey area in much of the UK, so be prepared to move on if challenged.
There is a good discussion of the pros and cons at campervanlife.com
---